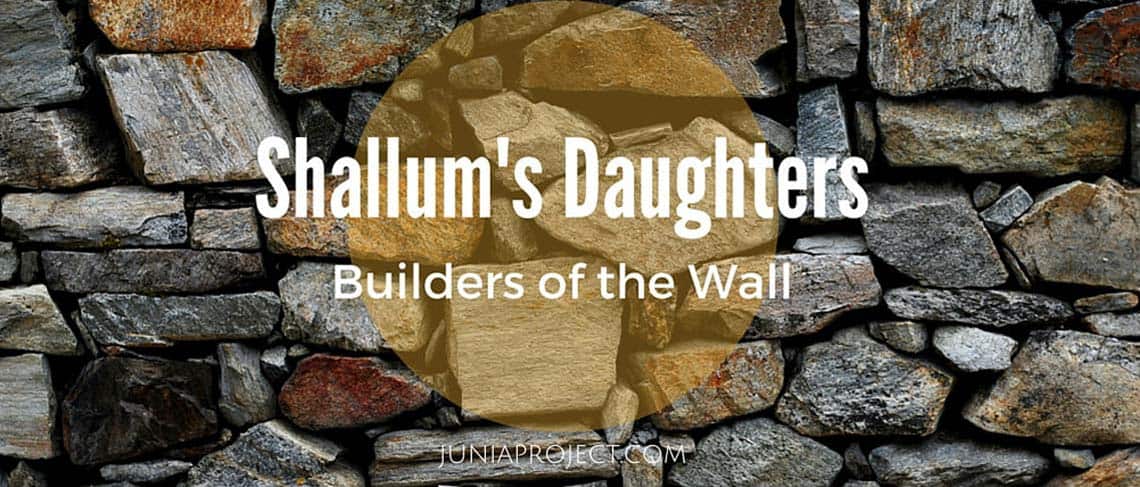 It's just one line from a single verse in the third chapter of Nehemiah, but it fascinates me:
Shallum, son of Hallohesh, ruler of a half-district of Jerusalem, repaired the next section with the help of his daughters (Nehemiah 3:12).
Shallum, ruler of a half-district of Jerusalem, rebuilt a section of the wall with the help of his daughters. His daughters. Really?
A Broken Wall
To understand the role of Shallum's daughters in rebuilding the wall, we first have to understand why the wall was torn down. The Babylonians invaded Judah and captured Jerusalem in 587/586 B.C. The Jews were carried into exile. Seventy years later, the exile ended when King Cyrus began to allow the Jews to return home. But while the returning exiles began to rebuild the temple and restore their homes, the city's broken wall left Jerusalem vulnerable and undefended. God eventually made a way for Nehemiah to travel to Jerusalem to rebuild the wall with the king's full permission and support. Upon arrival, Nehemiah quickly got to work surveying the damage, rallying the people, and organizing the work. Nehemiah 3 lists the names of all those who rebuilt a section of the wall, and right there in the middle of his list Nehemiah included Shallum and his daughters.
Partners in the Task
That brief mention of these women otherwise unnamed in Scripture intrigues me. How exactly did Shallum's daughters help rebuild the wall? Were these women wealthy heiresses or widows who helped their father finance his part of the rebuilding efforts? Did they provide food and drink for the workers, or did they actually clear rubble, spread mortar, and carry stones with their own hands? We don't know for sure. But however they helped, Shallum's daughters made a significant enough contribution to the rebuilding effort that Nehemiah included them in his list of the builders—the only women so named.
Protecting Their Home
By helping rebuild the wall, Shallum's daughters took part in ensuring Jerusalem's security. Walls were a city's first line of defense in the ancient world. Walls helped city leaders control access to the city and protected the city from attack. Without walls cities were vulnerable to attacks from bandits, wild animals, and enemy armies. With a wall and a good source of water, cities could withstand a siege and repulse enemy forces. Living in an unwalled city made its residents vulnerable and insecure.
But rebuilding Jerusalem's wall was not an easy proposition. The tasks of clearing rubble, gathering supplies, and rebuilding the gates the Babylonians had burned with fire had to be completed by a people struggling to survive in the land they had once called home. Furthermore, Jerusalem's rebuilding efforts did not go unopposed. Rebuilding Jerusalem caused a realignment in the political power structures in the region, and some of the neighboring provincial governors were displeased. They attempted to sabotage the rebuilding efforts, causing Nehemiah to order the workers to build with a sword in one hand and to carry their materials with the other. Despite the challenges, Shallum's daughters found a way to participate in rebuilding the wall and ensuring the security of their home.
An Example for Us
Shallum's daughters remind me that the portraits of biblical women are more diverse than we might sometimes think. There are those like Martha who find joy in serving and those like Lydia who joyfully use their homes as a base for ministry. But there are also women like Deborah, Miriam, Huldah, Jochebed, Rahab, and Shallum's daughters—women who use all the creativity, courage, and resources at their disposal to stand for justice, protect their homes, and do the work that needs to be done.
Shallum's daughters saw that Jerusalem was in danger, and they determined to do something about it. Their father was a leader in Jerusalem, and it would have been easy for Shallum's daughters to refrain from a task that was traditionally done by men. But Shallum's daughters were not content to leave their home in peril. They committed themselves and their resources to rebuild the wall, helping ensure security for themselves, their family, and their home.
Shallum's daughters remind me that never having done it before isn't a reason not to try. We don't have to meet every need we see, but sometimes our awareness of a need is God calling us to action. What walls do you see that need rebuilding? Where is there brokenness in your family or community that needs to be healed? Do you see defenseless people who need a protector? Is there a threat you can stand against? Wherever God calls you to serve, do it with all your might. Join Shallum's daughters in rebuilding your section of the wall.